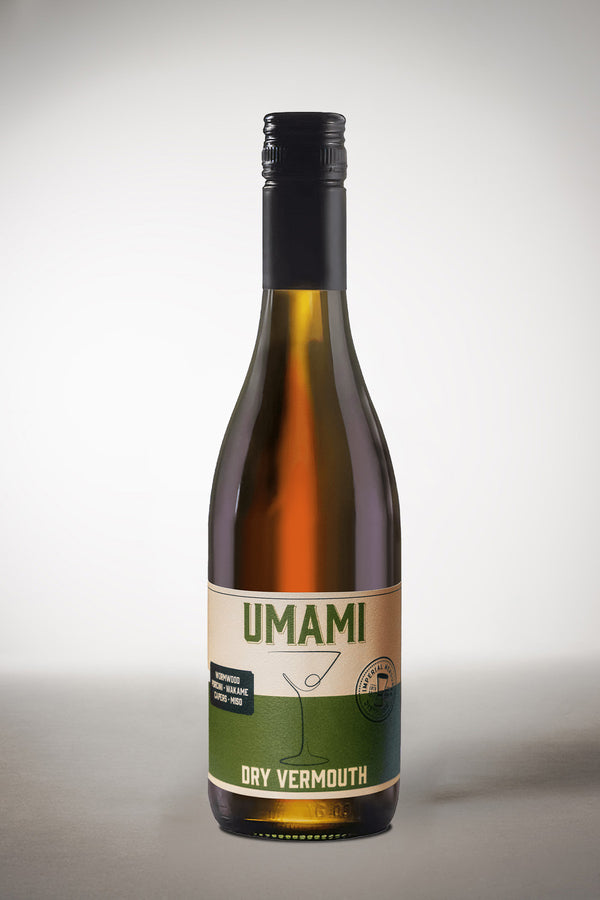 Umami Dry Vermouth was made to challenge familiarity, worlds away from the accepted norm. Umami is the 5th taste and translates directly as 'deliciousness'. It has little presence in the drinks world and therefore stands as an open invitation to create and explore.
Made with the Dirty Martini in mind, umami extracted from selected botanicals replaces the need for the classic addition of olive brine.
Handpicked wormwood is complimented by the concentrated expression of umami. This was achieved with key ingredients fermented by Simon Bryant prior to infusion in spirit. These include Adelaide Hills porcini mushrooms and Australian wakame seaweed along with local Riverland capers, Japanese white miso and sambal, amongst others.
Working in collaboration with Michael Corbett of Vanguardist wines we selected a one-off expression of biodynamic Watervale Riesling from the famed Churinga vineyard. Two years in barrel, with extended skin contact contributes chalky tannin structure, acidity and complexity.
All botanicals were individually vacuum sealed with spirit and gently heated in a water bath to infuse and extract flavour. This process retains all delicate notes otherwise lost in traditional methods of production.
Bottled in 375ml hand grenades. A half bottle allows the product to remain as vibrant and fresh as possible after opening by limiting air exposure.
375ml Bottle Size. 18% ABV
Product of Adelaide, Australia. No MSG Used in Production.
Label Designed by Ben Neale
Standard & Express Delivery Dispatched from Imperial Measures Distilling in 1-2 business days. 
Free Shipping On All Orders Over $99