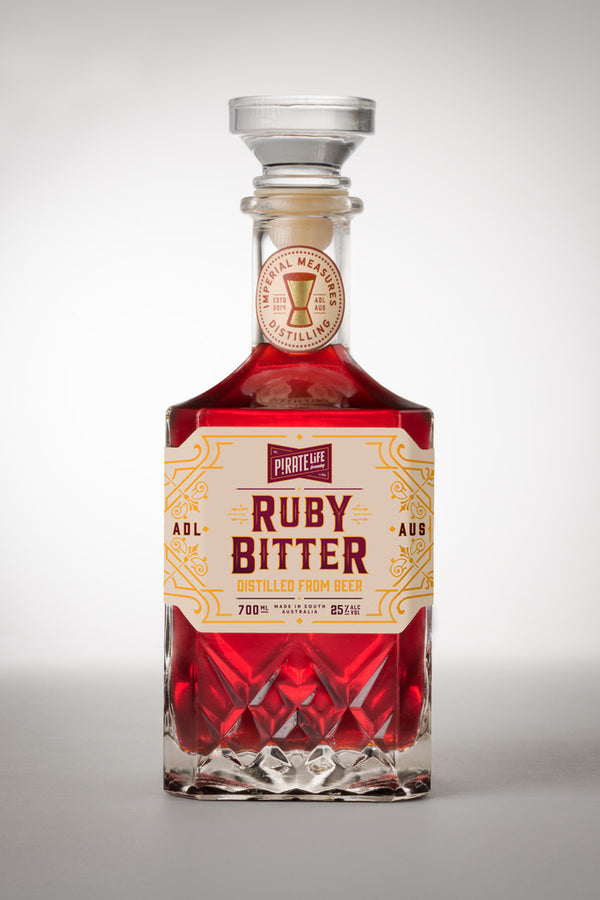 Pirate Life x Ruby Bitter 'Aperitif'
Experience the unique blend of 12 interwoven botanicals made from spirit distilled from Pirate Life Beer! 
The collaboration aperitif was created to showcase the heartfelt camaraderie between Pirate Life & Imperial Measures Distilling. The spirit was distilled in Thebarton, using Pirate Life IPA as a base. The spirit contributes a distinctive herbal quality to the original Ruby Bitter profile while elegantly offsetting with notes of toffee malt and spiced fruit.
Pirate Life x Ruby Bitter has a citrus base of Ruby Red Grapefruit balanced with a substantial punch of Gentian, Angelica, Sarsaparilla, and Orris root. These provide incredible depth, while Beetroot, Vanilla and Spice along with Rose and Hibiscus provide an aromatic lift and complex palate, finishing with Ruby's signature length. 
You won't find anything like it anywhere!
700ml Bottle Size. 25% ABV
Product of Adelaide, Australia
Standard & Express Delivery Dispatched from Imperial Measures Distilling in 1-2 business days. 
Free Shipping On All Orders Over $99