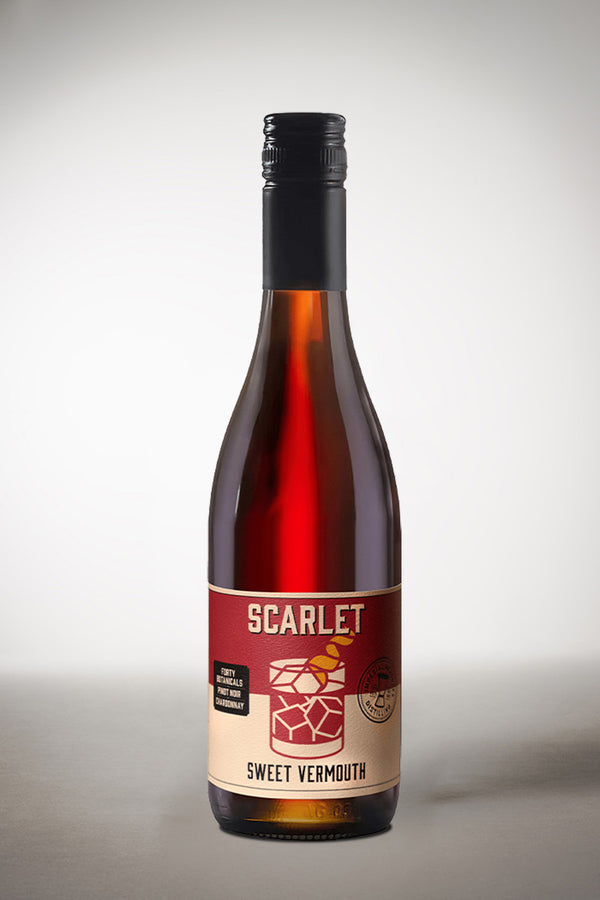 Scarlet Sweet Vermouth is a revision of the traditional vermouth concept. Designed for cocktails, with the Negroni as our focus, we ensured that this vermouth suits the classic stir down formats such as the Manhattan, Boulevardier and Vieux Carré. Scarlet is also at home in an Americano or served with soda.
A total of 40 botanicals were used. Wormwood – a key component of any Vermouth is supported by other families of botanicals: citrus, nuts, roots, herbs, fruits and spices.
Careful consideration was taken in selecting the wine components and blending of this Vermouth. Working in collaboration with Michael Downer of Murdoch Hill Wines we decided on a blend of Adelaide Hills Chardonnay and Pinot Noir as the base wine for the vermouth.
All botanicals were individually vacuum sealed with spirit and gently heated in a water bath to infuse and extract flavour. This process retains all delicate notes otherwise lost in traditional methods of production.
Bottled in 375ml hand grenades. A half bottle allows the product to remain as vibrant and fresh as possible after opening by limiting air exposure.
375ml Bottle Size. 18% ABV
Product of Adelaide, Australia
Label Designed by Ben Neale
Standard & Express Delivery Dispatched from Imperial Measures Distilling in 1-2 business days. 
Free Shipping On All Orders Over $99