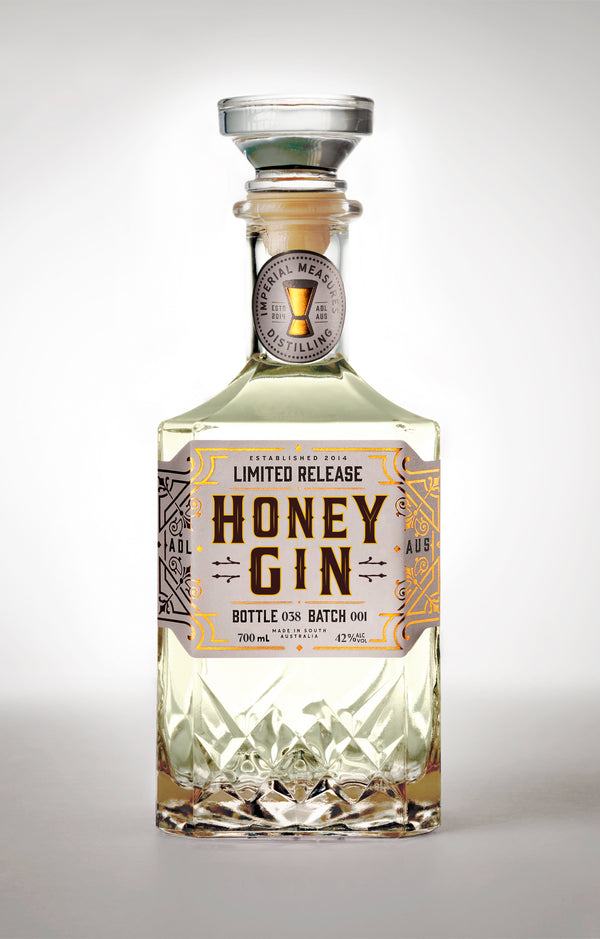 Honey Gin Limited Release Old Tom
Honey Gin Limited Release Old Tom
Embark on a journey through time with our Limited Release Honey Gin, a tribute to the bygone era of Old Tom gins, which flourished amidst the clandestine distilleries of 18th-century London during the notorious 'gin craze.'
In the spirit of innovation, our Honey Gin artfully resurrects the tradition of sweetened gins, replacing sugar with a golden elixir – honey. Crafted on the family bushland of IMD's owner in the pristine landscapes of South Australia's southeast, this honey is a testament to nature's bounty. Extracted after the bluegum flowering season, it remains unaltered, raw from the hive, before making a beeline straight to our distillery.
The botanical symphony that defines our Honey Gin is a careful balance, featuring a robust interplay of juniper and coriander, complemented by subtle herbal notes. Allspice and nutmeg dance on the palate, while a hint of lemon brightens the composition, creating a luxurious sensory experience.
Each sip unveils a rich tapestry of flavors, where the delicate sweetness of honey intertwines with the nuanced botanicals, delivering a distinctive texture that sets this Limited Release apart. Immerse yourself in the heritage of gin-making while embracing the modernity of our craft – Imperial Measures Distilling presents a true masterpiece, born from tradition, crafted for connoisseurs. Cheers to a journey through history, one sip at a time.
700ml Bottle Size. 42% ABV
Product of Adelaide, Australia
Standard & Express Delivery Dispatched from Imperial Measures Distilling in 1-2 business days. 
Free Shipping On All Orders Over $99